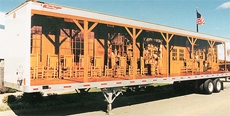 The employees of Fleet Graphics are proud of their long history of providing a complete line of top quality vehicle graphics services across the North American continent.† Our mission is not to worry about becoming the biggest fleet graphics provider. We know that by trying to do so we would endanger our ability to provide the services we're famous for. Check our Testimonials and Portfolio pages to read and see samples of our services.

Instead, our mission is to continue to concentrate on our traditional strengths of offering the finest products available,† timely, personal customer service, incredibly competitive pricing and a warranty that is very simply stated: no questions asked, period!† We stand by our products and services to the extent that whatever the problem may be, we will fix it, no questions asked!
Operating at a size that lets us remain personable doesn't in any way hinder our ability to tackle any size project. Fleet Graphics routinely provides services for the following:†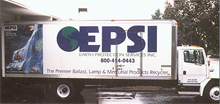 Whether your project is in Florida or Oregon; New York or Arizona or anywhere in between,† we provide all the services necessary to get the job done right.† Our Design staff working with you and coordinating with our Production dept. will make sure your graphics appear just as you envisioned.† Additionally, if Inventory Management of your graphics package is a concern, our production staff are specifically trained to get you what you need, when you need it. Coupling those capabilities with our extensive nationwide network of Installation experts means that your project will be handled in an extremely professional manner.

"Large enough to handle any size project.
Small enough so you're not just†another customer."